Marionetta



Gender

Female

Hair

Blonde

Age

12

Birthday

June 7, 1994

Religion

Protestant

First Appearance

Last Appearance

Family & Relationships

Unnamed father
Unnamed sister
Character
Edit
Marionetta (born June 7, 1994) is a girl in Orel's class. She is one of Orel's close friends, but not as close as Doughy or Tommy. She is easily recognizable by her colorful dotted skirt. She does believe in God but doesn't follow the church's rules as strictly as other children. Her family is apparently close to the Puppingtons because they "swing" with them. She also has a little sister.
Marionetta's family is seen in Elemental Orel "swinging" with the Puppingtons. She has a little sister and a father. If she has a mother she has never been seen.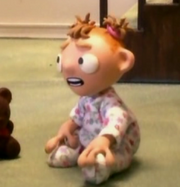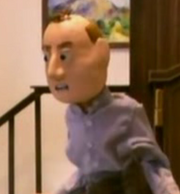 Appearences
Edit
Elemental Orel: Is accused of stealing money from the church donation plate.
Repression: Is horrified to see Principal Fakey walks down the hall with his pants down, School pageant: Gets the part of Mary in the school play
Orel's Movie premiere: Helps provide voices for Orel's movie
Grounded: Bathes Orel in blood along with Tommy, Doughy and Billy
Trigger: Shows her ant farm to the class
Ad blocker interference detected!
Wikia is a free-to-use site that makes money from advertising. We have a modified experience for viewers using ad blockers

Wikia is not accessible if you've made further modifications. Remove the custom ad blocker rule(s) and the page will load as expected.