Miss Dolores Stoopdown



Gender

Female

Hair

Brown with Blonde highlights

Age

31

Birthday

May 5, 1975

Job

Special Education Teacher

First Appearance

Last Appearance
Dolores Stoopdown (born May 5, 1975) is the Special Education teacher at Alfred G. Diarama Elementary. She leaves the class unsupervised leaving the students in class to do "real" education by reading science books and other important books. It is assumed she is divorced because she was seen in the episode Help as one of Bloberta's engaged friends, but currently goes by "miss". Also it is revealed in Dumb that she lives at the Aloneford Apartments.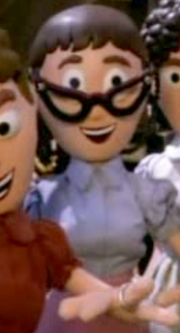 Ad blocker interference detected!
Wikia is a free-to-use site that makes money from advertising. We have a modified experience for viewers using ad blockers

Wikia is not accessible if you've made further modifications. Remove the custom ad blocker rule(s) and the page will load as expected.